HMD/PRV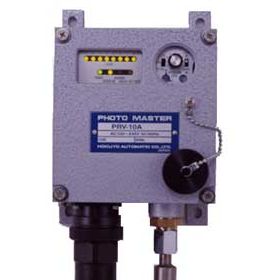 Sensor for Iron & Steel Industry
Hot metal with 360 to 1,200 degrees C
Overview
Specifications
External dimension
I/O circuit
Characteristics Data
Downloads
Overview

-> Setting of sensitivity adjustment against temperature of detecting material had not been obvious. However this equipment displays reception level lamps in every twice using linear characteristic relationship between temperature and analog output voltage(8 levels). Operation setting can be made with level display or analog voltage. Also, there are three ranges, L/M/H as detection temperature changeover switch. Any parts such as slits etc. aren't required for 350 to 1,200 degrees C. It is epoch-making HMD that operation point setting is possible with detecting condition before operation.
-> This device doesn't specify power source. It is capable of being used within the scope of 100 to 240VAC.
-> Water-cooling or air-purge isn't required for sensor head because non-air dust purge hood is applied.
-> Warning output is provided.
-> We have wide variety of sensor head. Refer to data sheets of head.
Examples
Model
Specifications
Model No.
Amplifier:
PRV-10A*1
Sensor head:
FHM-201(Basic type),
FHM-203(Narrow directivity type),
FHM-201-8WA (Wide directivity type)
Fiber unit *2:
FHV-321(2m), FHV-351(5m), FHV-411(10m)
Detectable objects
Heated material with 360 to 1,200 degrees C
Detecting distance
5m(Different depending on the size or temperature of detectable objects against detection range, or fiber length*3)
Power source
100 to 240VAC(+10%, -15%, 50/60Hz)
Control output
1C relay contact(250VAC 3A, COSφ=1),
Warning output
Photo-coupler(Max. 120V, 100mA)
Ambient temperature
Amplifier:-10 degrees C to +55 degrees C
Sensor head/Fiber unit:-10 degrees C to +200 degrees C
Ambient humidity
45 to 85%RH(Not icing)
*1 PRV-10B with communication function and PRV-10C with detection temperature outside changeover function are also available.
*2 3m, 15m and 20m type are also available.
*3 Ask us in details.
External dimension
External dimension

External dimension

I/O Circuit
Connection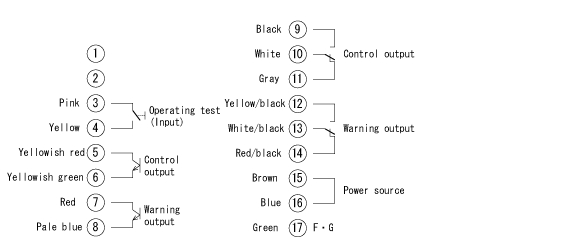 Control output(Changeover by inner switch)
Operating mode
Light-ON
Dark-ON
Pin No. of connector.
5月20日
9-10
10-11
5-6
9-10
10-11
Power-OFF state
OFF
OPEN
CLOSE
OFF
OPEN
CLOSE
Power-ON state
When light-entering
ON
CLOSE
OPEN
OFF
OPEN
CLOSE
When light-interrupting
OFF
OPEN
CLOSE
ON
CLOSE
OPEN
Warning output
Pin No. of connector.
7-8
12-13
13-14
Power-OFF state
OFF
OPEN
CLOSE
Power-ON state
When normal
ON
CLOSE
OPEN
When troubled
OFF
OPEN
CLOSE
Characteristics Data
Steel temperature characteristics

Min. detectable objects and detectable temperature characteristics

Option
Downloads
This menu is for members only. Please proceed with the
Member Registration link here
if you are not currently a member.
If you have a current membership, please read the following Terms of Use and press "Agree" to acknowledge.
License for Downloading Materials
When downloading the product specifications, drawings and various types of materials and software related to the Hokuyo's product line, please read the terms of use in advance and then utilize the same with your understanding and consent.
In case of dissent, please understand that you cannot register to and be recognized in the download page. (And the Terms of Use may be revised without prior notice.)
Terms of Use
Intellectual Property Rights
Copyrights and the other rights to contents such as sentences, data and software published on this Website
(hereinafter referred to as "Contents") are held by Hokuyo or its suppliers.
The secondary application (copy, diversion, defacement, analysis, transmission, assignment, rental, licensing, and usage for the purpose of business activities or commercial gain) of the Contents on this Website posted by Hokuyo is strictly prohibited without our prior approval. Specific terms of use described for each download site or Contents shall apply in preference to the Terms of Use.
Provision of the Contents on this Website by Hokuyo means neither a transfer of the patent rights, design rights, and/or the other intellectual property rights to inventions and designs in the Contents, nor a grant of any rights based on the intellectual property rights.
Disclaimer
Hokuyo pays full attention to the information that appears on this Website, but does not take responsibility for the following items:
The information that appears on this Website is always the latest version, and is updated or corrected timely and properly;
The information that appears on this Website is accurate, useful and safe;
Customer's damage incurred by the use of this Website, including changes or deletions of the information, discontinuation or suspension of the publication; and
Any and all damage incurred by using this Website.
Programming
Q & A
Spare