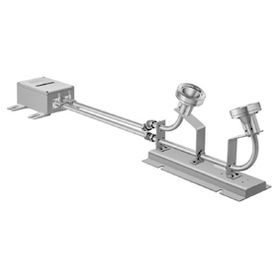 MBX-301CA
Sensor for Iron & Steel Industry
Microwave-guide type Detector
Microwave type not affected by vapor, disturbance light or smoke
Overview
Features
-> This is a microwave detector. It consists of an antenna as detecting part and control unit composed of oscillator, wave detector and amplifier, and these two components are coupled together by a wave guide. Since the antenna is free from any electronic part which may be affected by heat, it can be used in high temperature environment without being cooled by water.
-> This device is suitable for using under bad environment because microwave isn't affected by vapor, disturbance light,smoke etc.
-> This device is reflective type. It is possible to detect small pipe, too.
-> This device provides monitor output that is monitoring oscillation of microwave.
Specification
Model No.
Control unit:
MBX-301CA
Antenna:
MAR-201(Without air-purge), MAR-251(With air-purge)
Waveguide:
MWG-20(Semi-seamless 2m), MWG-25(Seamless 2m), MFG-20(Flexible 0.5m)
Joint:
MSJ-20(Socket), MBJ-25(Elbow), MCJ-20(Elbow with 45°)
Detectable objects
Steel plate with reflection surface, 50×50mm or more
Detecting distance
Approx. 300mm from antenna surface
Hysteresis
1mm to 30mm(Adjustable)
Microwave
10.525GHz ±15MHz
Allowable waveguide length
25m or less(Total of transmission and reception)
Air blowing of waveguide
Air quality : Industrial clean air, Air amount : 20 lit/min., Air pressure : 980KPa(In case of MAR-251)
Power source
100 to 110VAC/200 to 220VAC(±10%, 50/60Hz)
Power consumption
4.5VA or less
Control output
Contact : 1C relay contact(250VAC 3A, 30VDC 5A, cosφ=1)
Photo-coupler(75V 100mA)
Alarm output*1
1C relay Contact(250VAC 3A, 30VDC 5A, cosφ=1)
Response time
Contact output : 10msec, photo-coupler output : 3msec
Connection
M4 screw terminal, hub body with gland(Hole diameterφ18)
Display lamp
Power lamp, operation lamp, alarm lamp, 5-step reception level lamp*2
Ambient temperature
Control unit : -10 to +60°, Antenna/waveguide : -20 to +600°
Case
Antenna : Bronze casting, Control unit : Aluminum die-casting
Weight
Control unit : approx. 10kg, Antenna : approx. 11kg
*1 When oscillation of microwave is stopped by power failure or circuit trouble, this output is executed.
*2 Reception level is indicated with 5 steps.
External dimension
Antenna(MAR-201/MAR-251)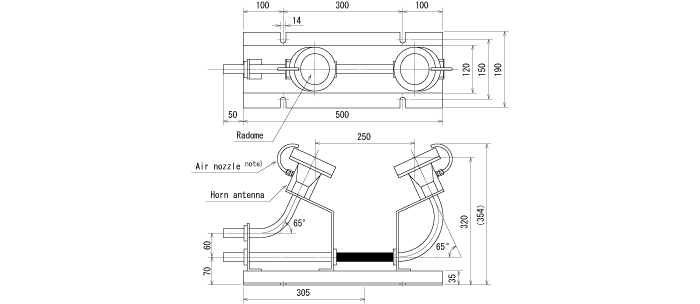 Note)Only MAR-251
Control unit

I/O Circuit
Connection

Control output
Terminal No.
4-5
5-6
7-8
Power-OFF state
CLOSE
OPEN
-
Power-ON state
When non-detection
OPEN
CLOSE
ON
When detection
CLOSE
OPEN
OFF
Alarm output(monitor output)
Terminal No.
9-10
10-11
Power-OFF state
CLOSE
OPEN
Power-ON state
When normal
OPEN
CLOSE
When troubled
CLOSE
OPEN
Characteristics Data
Detecting characteristics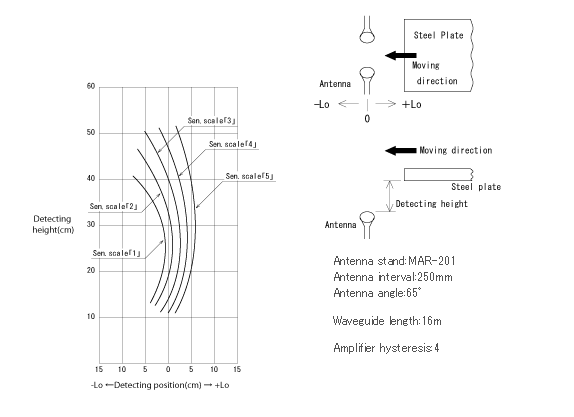 Downloads
Before Download
Only members can download the file.
If you have not registered as a member, please register as a member by clicking the "Registration".
If you are already a member, please agree to the following terms and click the "Agree".
License for Downloading Materials
When downloading the product specifications, drawings and various types of materials and software related to the Hokuyo's product line, please read the terms of use in advance and then utilize the same with your understanding and consent. In case of dissent, please understand that you cannot register to and be recognized in the download page. (And the Terms of Use may be revised without prior notice.)
Terms of Use
Intellectual Property Rights

Copyrights and the other rights to contents such as sentences, data and software published on this Website (hereinafter referred to as "Contents") are held by Hokuyo or its suppliers.
The secondary application (copy, diversion, defacement, analysis, transmission, assignment, rental, licensing, and usage for the purpose of business activities or commercial gain) of the Contents on this Website posted by Hokuyo is strictly prohibited without our prior approval. Specific terms of use described for each download site or Contents shall apply in preference to the Terms of Use.
Provision of the Contents on this Website by Hokuyo means neither a transfer of the patent rights, design rights, and/or the other intellectual property rights to inventions and designs in the Contents, nor a grant of any rights based on the intellectual property rights.

Disclaimer

Hokuyo pays full attention to the information that appears on this Website, but does not take responsibility for the following items:

The information that appears on this Website is always the latest version, and is updated or corrected timely and properly;
The information that appears on this Website is accurate, useful and safe;
Customer's damage incurred by the use of this Website, including changes or deletions of the information, discontinuation or suspension of the publication; and
Any and all damage incurred by using this Website.
Product's Category
Scanning Rangefinder

Photoelectric Switch

Sensor for Iron & Steel Industry

Optical Data Transmission Device