Laser Distance Measurement/PGL-050W3/180W3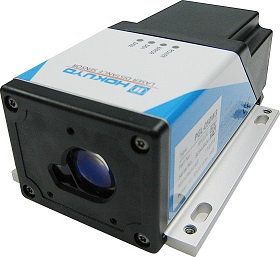 Photoelectric Switch

NEW 180m Distance

Laser Distance Measurement
Long distance type laser sensor
PGL-050W3: Direct reflection 50m
PGL-180W3: Retro-reflection 180m*1
*1Direct reflection is 100m
Overview
Applications
Model No.
Specifications
External dimension
I/O circuit
Downloads
Overview

High accuracy and Long distance.
Laser Distance Sensor
It has two operation modes, distance data output and distance setting output.
High accuracy
Accuracy ± 3mm
Repeated accuracy ± 0.7mm
Long distance
PGL-050W3: Direct reflection 50m
PGL-180W3: Retro-reflection 180m*1
*1Direct reflection is 100m
Two points of distance setting output

It has a transistor output which outputs at a distance set in two stages.
Switchable to PNP, NPN and Push-pull with one unit.
It is not necessary to select model by output type.
Distance setting output hysteresis

Hysteresis can be set in 0.1mm increments for distance setting output.
Filter function
It has a moving average filter, a spike suppression filter and an error suppression filter.
It is strong against noise or error data.
Interface
Various interface is available such as RS232C, RS422, RS485 and SSI.

Application software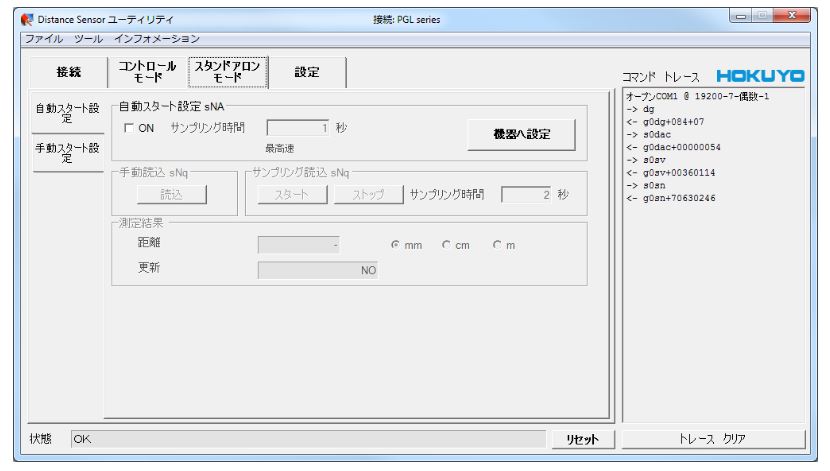 The device can be connected to the application software by USB.
Reading various settings and errors, command simulation is possible.
Examples
Distance measurement in various scenes is possible.
It is suitable for positioning, dimension measurement and monitoring in various applications.
Logistics
Positioning of stacker crane
Positioning of rail vehicle
Positioning of vertical transport lift

Iron making
Presence / absence of steel material
Dimension measurement of steel
Position control of steel

Crane
Close warning of overhead crane
Positioning of automatic overhead crane
Position control of railway vehicle

Port
Positioning of crane
Positioning of container
Mesurement of approaching distance to hull

Paper making, Cardboard
Amount measurement for wind-up roll
Amount measurement for remaining roll

Infrastructure
Strain monitoring of bridges and infrastructure facilities
*All pictures are reference images. The devices are not actually installed there.
Model
Model No. / Part No.


| | | |
| --- | --- | --- |
| Model No. | Part No. | Distance |
| PGL-050W3 | RPGL001 | 50m |
| PGL-180W3 | RPGL002 | 180m |
| Reflector for PGL-180W3 | RRRL006 | Size: 210×297mm |
| Reflection sheet for PGL-180W3 | RRRL005 | Size: 600×1200mm |
Specifications
Model No.
PGL-050W3
PGL-180W3
Supply voltage
12~30VDC(0.15A@24VDC)
Light source
Red Laser(650nm) Class 2(IEC 60825-1; 2014)
Spot size
10m:7×3mm ,50m:28×13mm ,100m:55×30mm
Detection distance(without reflector)
0.05~50m
0.05~100m
Detection distance(with reflector)
No reflector
0.5~180m
Accuracy 2σ(1σ)
±3(±1.5)mm
Repeated accuracy 2σ(1σ)
±0.7(±0.35)mm
Speed
Max.100Hz
Digital input
Start・Stop input
Switch digital output to input
Digital output
Distance setting output 2points、Error output 1point
Switchable to NPN,PNP,Push-Pull
Serial interface
RS-232/422/485, SSI
USB interface
Only for setting
LED display
Four LEDs
Ambient temperature
-10℃~50℃
Vibration resistance
EN600068-2 (1995-04)
Shock resistance
EN600068-2-27 (1993-03)
Protective structure
IP65(IEC60529)
Material
Aluminum diecasting
Dimensions(W×D×H)
140 x 78 x 48 mm
Weight
350 g
External dimension
External Dimensions
I/O Circuit
Structure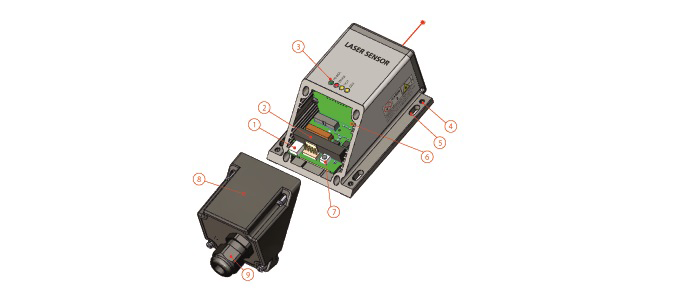 ①USB(Mini-B) ②External connection screw terminal ③LED display ④Angle adjustment screw ⑤Mounting hole
⑥Shield terminal ⑦Reset button ⑧Terminal cover ⑨Cable ground

Connecting to external connection screw terminal
External connection terminal

Characteristics Data
Option
Downloads
This menu is for members only. Please proceed with the
Member Registration link here
if you are not currently a member.
If you have a current membership, please read the following Terms of Use and press "Agree" to acknowledge.
License for Downloading Materials
When downloading the product specifications, drawings and various types of materials and software related to the Hokuyo's product line, please read the terms of use in advance and then utilize the same with your understanding and consent.
In case of dissent, please understand that you cannot register to and be recognized in the download page. (And the Terms of Use may be revised without prior notice.)
Terms of Use
Intellectual Property Rights
Copyrights and the other rights to contents such as sentences, data and software published on this Website
(hereinafter referred to as "Contents") are held by Hokuyo or its suppliers.
The secondary application (copy, diversion, defacement, analysis, transmission, assignment, rental, licensing, and usage for the purpose of business activities or commercial gain) of the Contents on this Website posted by Hokuyo is strictly prohibited without our prior approval. Specific terms of use described for each download site or Contents shall apply in preference to the Terms of Use.
Provision of the Contents on this Website by Hokuyo means neither a transfer of the patent rights, design rights, and/or the other intellectual property rights to inventions and designs in the Contents, nor a grant of any rights based on the intellectual property rights.
Disclaimer
Hokuyo pays full attention to the information that appears on this Website, but does not take responsibility for the following items:
The information that appears on this Website is always the latest version, and is updated or corrected timely and properly;
The information that appears on this Website is accurate, useful and safe;
Customer's damage incurred by the use of this Website, including changes or deletions of the information, discontinuation or suspension of the publication; and
Any and all damage incurred by using this Website.
Programming
Q & A
Spare