Optical Data Transmission Device
Steel mills Detection of steel materials
Steel mills Detection of steel materials
Steel material detection at steel mills
The sensor has the following features
1. Robust: Using metal case
2. High temperature resistance: By separating the head and amplifier unit with fiber, the head part can bear up to 200 ° C
3. Contamination resistance: The lattice structure inside the head makes it difficult for the lens to become dirty.
Steel Material Detection by CMD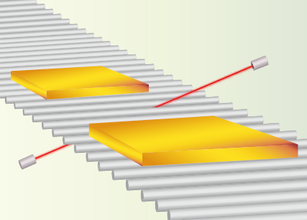 It works when the light is blocked by steel. The detection position accuracy is also excellent.
Product's Category
Scanning Rangefinder

Photoelectric Switch

Sensor for Iron & Steel Industry

Optical Data Transmission Device

Optical Data Transmission Device