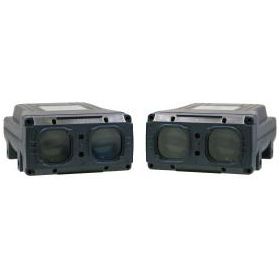 EWF-0E/1E
Optical Data Transmission Device
Open Network (Serial)
OPTICAL DATA TRANSMISSION DEVICE
Overview
Features
-> 100Mbps optical repeater that can connect to the Ethernet line directly.
-> Setting of MAC address or IP is not required and it can be used as LAN cables.
-> Non-contact communication is available for up to 100m between moving devices.
Specification
Model No.
EWF-0EA-01/0EB-01
EWF-1EA-01/1EB-01
Transmission distance
50m
100m
Directional angle
Full angle 1.4°
Full angle 0.7°
Power source
24VDC(±10%)
Current consumption
150mA(24VDC)
Transmission system
Full-duplex two-way transmission
Transmission speed
100Mbps
Laser safety standard
Class 2M
Interface
Ethernet
Communication standerd
IEEE802.3u 100BASE-TX Auto-negotiation compliant
Modulation system
Direct modulation
Connection
Mini clamp connector(Power/CD signal),Modular jack RJ-45(Ethernet)
Ambient temperature/humidity
-10°C to +50°C,85%RH or less(non icing)
Ambient illuminance
10000lux or less(Halogen/mercury lamp)
Impact resistance
490m/s2, Each 10 times in X, Y and Z directions
Vibration resistance
Double amplitude 1.5mm,10 to 55Hz,each 2 hours in X, Y and Z direction
Protective structure
IP40
Reception output(CD)
Photo-coupler open-cellector(Withstand pressure 35V), ON when receiving light(Max.50mA, residual voltage 1.5V)
Level voltage output(Analog output)
Approx.0 to 3V, connector S2B-PH-K-S(JST)
This is available only when adjusting the optical axis.
External wiring is forbidden.
External dimension
External dimension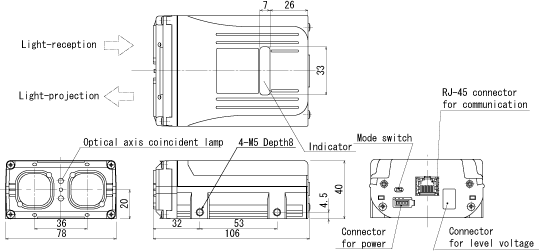 I/O Circuit
Input/output circuit

Connection

Caution about laser safety

This product emitts laser beam and complies with laser safety Class2 (JIS C6802:2005/IEC60825-1).
Product's Category
Scanning Rangefinder

Photoelectric Switch

Sensor for Iron & Steel Industry

Optical Data Transmission Device