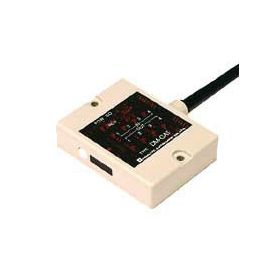 DMH-GB/HB
Optical Data Transmission Device
Parallel type
This device is high-speed type, data transmission device.
Overview
Features
-> It is 5 times faster than DMS series and this device can communicate more data in specific time.
Specification
Type
Parallel type
8-bit type
Model No.
DMH-GB1
DMH-GB2
DMH-HB1
DMH-HB2
Transmission capacity(I/O)
8BIT/8BIT
Direction
HEAD-ON
SIDE-ON
Transmission distance
0.6m
3m
0.6m
3m
Directional angle
±15°
±5°
±15°
±5°
Transmission method
Half-duplex two-way transmission
Transmission time
7msec
Modulation method
FSK modulation
Detection method
Bit-reverse comparison system
Power source
18 to 30VDC(ripple 10% or less)
Current consumption
100mA Max.
Ambient illuminance
10,000lux or less
Ambient temperature/ humidity
-10 to +50 degrees C, 85%RH or less
Vibration resistance
Double amplitude 1.5mm, 10 to 30Hz, each 2 hour in X, Y and Z directions
Impact resistance
500m/s2, each 10 time in X, Y and Z directions
Connection
Lead wire (0.2mm2, 23 cores, shield cable 2m long)
Protective structure
IP64(IEC standard)
External dimension
DMH-GB1, DMH-GB2(HEAD-ON type)

DMH-HB1, DMH-HB2(SIDE-ON type)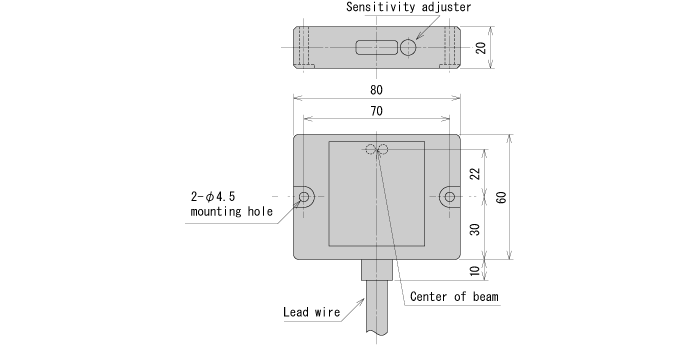 I/O Circuit
Input

Flow current when ON(IO) : approx. 5mA(when 24VDC)
Allowable residual voltage when ON : use it with 1.8V or less
Output

NPN open-collector output
35DC 50mA residual voltage 1.5V or less
Connector (1)
Connector (2)
Colors
Pin No.
Functions
Colors
Pin No.
Functions
Pale blue
1
Power 0V
Green / black
1
GO*3
Pink
2
Power +V
Blue
2
STROBE*4
White
3
IN1
-
3
-
White / black
4
IN2
Purple
4
OUT8
Brown
5
IN3
Purple / black
5
OUT7
Brown / black
6
IN4
Gray
6
OUT6
Red
7
IN5
Gray / black
7
OUT5
Red / black
8
IN6
Pink / black
8
OUT4
Orange
9
IN7
Pale blue / black
9
OUT3
Orange / black
10
IN8
Pink/red
10
OUT2
Yellow
11
MODE*1
Yellow/red
11
OUT1
Yellow / black
12
COM(0V)
-
12
-
Green
13
SELECT*2
-
13
-
Shield
Shield
*1 MODE input
This is to choose transmission/reception mode when standing by
*Transmission stand-by mode by opened between mode and I/O COM
*Reception stand-by mode by short-circuited between mode and I/O COM
Note) If one side is set to transmission stand-by mode, other one should be set to reception standby mode.
*2 SELECT input
This is to stop transmission/reception optionally by outer signal
*Operating by opened between select and I/O COM
*Stopping by short-circuited between select and I/O COM
*3 GO output
This is to check correct optical single
*ON when receiving correct optical axis
*OFF when interrupting optical axis(Not-receiving)
*4 Strobe
It is getting ON when data is fixed.
Note) The connector attached can't be used as relay terminal.
Downloads
Before Download
Only members can download the file.
If you have not registered as a member, please register as a member by clicking the "Registration".
If you are already a member, please agree to the following terms and click the "Agree".
License for Downloading Materials
When downloading the product specifications, drawings and various types of materials and software related to the Hokuyo's product line, please read the terms of use in advance and then utilize the same with your understanding and consent. In case of dissent, please understand that you cannot register to and be recognized in the download page. (And the Terms of Use may be revised without prior notice.)
Terms of Use
Intellectual Property Rights

Copyrights and the other rights to contents such as sentences, data and software published on this Website (hereinafter referred to as "Contents") are held by Hokuyo or its suppliers.
The secondary application (copy, diversion, defacement, analysis, transmission, assignment, rental, licensing, and usage for the purpose of business activities or commercial gain) of the Contents on this Website posted by Hokuyo is strictly prohibited without our prior approval. Specific terms of use described for each download site or Contents shall apply in preference to the Terms of Use.
Provision of the Contents on this Website by Hokuyo means neither a transfer of the patent rights, design rights, and/or the other intellectual property rights to inventions and designs in the Contents, nor a grant of any rights based on the intellectual property rights.

Disclaimer

Hokuyo pays full attention to the information that appears on this Website, but does not take responsibility for the following items:

The information that appears on this Website is always the latest version, and is updated or corrected timely and properly;
The information that appears on this Website is accurate, useful and safe;
Customer's damage incurred by the use of this Website, including changes or deletions of the information, discontinuation or suspension of the publication; and
Any and all damage incurred by using this Website.
Product's Category
Scanning Rangefinder

Photoelectric Switch

Sensor for Iron & Steel Industry

Optical Data Transmission Device