Distance Data Output/UTM-30LX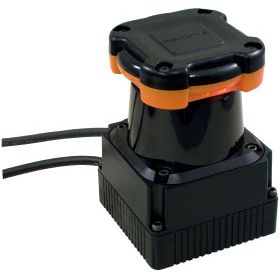 Scanning Rangefinder
30m and 270° scanning range. Suitable for robots with higher moving speed because of the longer range and fast response.
Overview
Specifications
External dimension
Downloads
Programming
Overview

-> Long Detection range: 30m
-> Wide Angle: 270°
-> Outdoor Environment
-> Compact and Light: W60xD60xH87mm, 370g
Examples
Model
Specifications
Model No.
UTM-30LX
Power source
12VDC±10%(Current consumptlon:Max:1A,Normal:0.7A)
Light source
Semiconductor laser diode(λ=905nm)
Laser safety Class 1(FDA)
Detection Range
0.1 to 30m(White Square Kent Sheet 500mm or more),Max.60m
270°
Accuracy
0.1 to 10m:±30mm, 10 to 30m:±50mm*1
Angular Resolution
0.25°(360°/1,440 steps)
Scan Time
25msec/scan
Sound level
Less than 25dB
Interface
USB2.0(Full Speed)
Synchronous output
NPN open collector
Command system
Exclusively designed command SCIP Ver.2.0
Connection
Power and Synchronous output:2m flying lead wire
USB:2m cable with type-A connector
Amblent(Temperature
/Humidity)
-10 to +50 degrees C, less than 85%RH(without dew and frost)
Vibration Resistance
Double amplitude 1.5mm 10 to 55Hz, 2 hours each in X, Y and Z direction
Impact Resistance
196m/s2, 10 times in X, Y and Z direction
Weight
Approx. 370g(with cable attachment)
*1.This accuracy could be less reliable if the sensor receives strong light such as sun light directly in the outdoor environment.
Note) This sensor is not a safety device/tool.
Note) Hokuyo products are not developed and manufactured for use in weapons, equipment, or related technologies intended for destroying human lives or creating mass destruction. If such possibilities or usages are revealed, the sales of Hokuyo products to those customers might be halted by the laws of Japan such as Foreign Exchange Law, Foreign Trade Law or Export Trade Control Order.In addition, we will export Hokuyo products for the purpose of maintaining the global peace and security in accordance with the above laws of Japan .
External dimension
External dimension
I/O Circuit
Characteristics Data
Option
Downloads
This menu is for members only. Please proceed with the
Member Registration link here
if you are not currently a member.
If you have a current membership, please read the following Terms of Use and press "Agree" to acknowledge.
License for Downloading Materials
When downloading the product specifications, drawings and various types of materials and software related to the Hokuyo's product line, please read the terms of use in advance and then utilize the same with your understanding and consent.
In case of dissent, please understand that you cannot register to and be recognized in the download page. (And the Terms of Use may be revised without prior notice.)
Terms of Use
Intellectual Property Rights
Copyrights and the other rights to contents such as sentences, data and software published on this Website
(hereinafter referred to as "Contents") are held by Hokuyo or its suppliers.
The secondary application (copy, diversion, defacement, analysis, transmission, assignment, rental, licensing, and usage for the purpose of business activities or commercial gain) of the Contents on this Website posted by Hokuyo is strictly prohibited without our prior approval. Specific terms of use described for each download site or Contents shall apply in preference to the Terms of Use.
Provision of the Contents on this Website by Hokuyo means neither a transfer of the patent rights, design rights, and/or the other intellectual property rights to inventions and designs in the Contents, nor a grant of any rights based on the intellectual property rights.
Disclaimer
Hokuyo pays full attention to the information that appears on this Website, but does not take responsibility for the following items:
The information that appears on this Website is always the latest version, and is updated or corrected timely and properly;
The information that appears on this Website is accurate, useful and safe;
Customer's damage incurred by the use of this Website, including changes or deletions of the information, discontinuation or suspension of the publication; and
Any and all damage incurred by using this Website.
Q & A
Spare