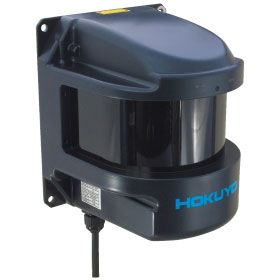 UXM-30LXH-EWA
Scanning Rangefinder
Distance Data Output
SOKUIKI sensor for intelligent robots
Overview
Features
-> Multi Echo Functionality is ideal for applications in harsh environments such as rain, snow and fog
-> Synchronization functionality for interference prevention
-> Built-in heater for cold environments
-> Better accuracy, finer resolution, longer scanning distance
Laser scanning image

Specification
Product name
Laser range finder
Type
UXM-30LXH-EWA
Light source
Semiconductor laser, λ=905nm, safety class of the laser = 1
Power supply voltage
10 to 30VDC
Power supply current
Steady-state current: 600mA or less at 12VDC, 300mA or less at 24VDC
Starting current: 1.5A or less at 12VDC, 0.75A or less at 24VDC
Heater in use(0°C or below): 1.25A or less at 12VDC, 1.25A or less at 24VDC
Electric power consumption
7.2W or less(at steady-state)
Heater in use(0°C or below: 15W or less at 12VDC, 30W or less at 24VDC)
Detection distance and target object
Guaranteed value of detection:
0.1 to 30m*1(Reflectance of 10%, black paper, 500mm×500mm)
0.1 to 80m*1(Reflectance of 90%, white Kent paper, 1,000mm×1,500mm)
Maximum detecting distance: 120m
Minimum object to be detected: 33mm(5m), 65mm(10m), 200mm(30m)
Average accuracy by distance
10% reflectance, black paper, 0.1 to 15m:±30mm, 15 to 30m:±50mm*1
0.1 to 30m:±50mm*2 Ambient illuminance: 3,000 lux or less
0.1 to 20m:±50mm*2 Ambient illuminance: 100,000 lux or less
90% reflectance, white Kent paper, 0.1 to 30m:±30mm*1
0.1 to 30m:±50mm*2 Ambient illuminance: 3,000 lux or less
0.1 to 20m:±50mm*2 Ambient illuminance: 100,000 lux or less
Measurement resolution
Unit of 1mm
Repeat accuracy
10% reflectance, black paper, 0.1 to 15m: σ<10mm, 15 to 30m: σ<15mm*1
0.1 to 30m: σ<20mm*2 Ambient illuminance: 3,000lux or less
0.1 to 20m: σ<30mm*2 Ambient illuminance: 100,000lux or less
90% reflectance, white Kent paper, 0.1 to 30m: σ<10mm*1
0.1 to 30m: σ<15mm*2 Ambient illuminance: 3,000lux or less
0.1 to 30m: σ<30mm*2 Ambient illuminance: 100,000lux or less
Scanning angle
190°
Angular resolution
Approx. 0.125°(360°/2880 divisions)
Scanning time
50ms(rotating speed of motor: 1200rpm)
Interface
Ethernet 100BASE-TX(Auto-negotiation)
Output
OUTPUT 3 points: Synchronization master output, synchronization output, failure output
Input
INPUT 1 points: Synchronization input
Starting time
Operation starts within 30sec after turning the power supply on.
Indication lamp
Indication lamp for power supply and operation(green), indication lamp for communication measurement(orange)
Regarding the operation of indication lamps, refer to sub-clause 7.2.
Ambient operating temperature, humidity
-10 to +50°C 85%RH(However, dew condensation and freezing should not exist.)
Resistance to weather
Detecting distance becomes shorter due to rain, snow, and sunlight.*3
Vibration resistance
10 to 55Hz, plural amplitude: 1.5mm in X, Y, Z directions, each 2 hours
55 to 200Hz 19.6m/s2 Sweep: 2 minutes in X, Y, Z directions, each 1 hour
Resistance to shock
196m/s2 in X, Y, Z directions, each 10 times
Protective structure
IP67
Insulation resistance
10MΩ
Mass
1200g
Material
Front face of the case, optical windows: Polycarbonate, Back face of the case: Aluminum
Outside dimension
(W×D×H)
124mm × 126mm × 150mm(connector not included)
*1. Indoor environment(fluorescent lamp, 1,000lux or less)
*2. Detection cannot be guaranteed when direct light(such as sunlight) enters the device.
*3. Regarding the influence of environment, please confirm with the actual equipment.
External dimension
External dimension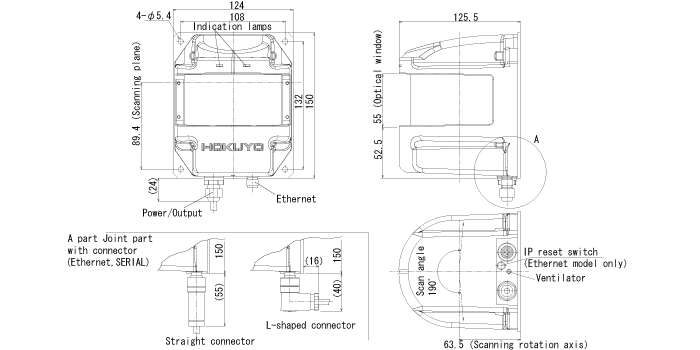 Downloads
Before Download
Only members can download the file.
If you have not registered as a member, please register as a member by clicking the "Registration".
If you are already a member, please agree to the following terms and click the "Agree".
License for Downloading Materials
When downloading the product specifications, drawings and various types of materials and software related to the Hokuyo's product line, please read the terms of use in advance and then utilize the same with your understanding and consent. In case of dissent, please understand that you cannot register to and be recognized in the download page. (And the Terms of Use may be revised without prior notice.)
Terms of Use
Intellectual Property Rights

Copyrights and the other rights to contents such as sentences, data and software published on this Website (hereinafter referred to as "Contents") are held by Hokuyo or its suppliers.
The secondary application (copy, diversion, defacement, analysis, transmission, assignment, rental, licensing, and usage for the purpose of business activities or commercial gain) of the Contents on this Website posted by Hokuyo is strictly prohibited without our prior approval. Specific terms of use described for each download site or Contents shall apply in preference to the Terms of Use.
Provision of the Contents on this Website by Hokuyo means neither a transfer of the patent rights, design rights, and/or the other intellectual property rights to inventions and designs in the Contents, nor a grant of any rights based on the intellectual property rights.

Disclaimer

Hokuyo pays full attention to the information that appears on this Website, but does not take responsibility for the following items:

The information that appears on this Website is always the latest version, and is updated or corrected timely and properly;
The information that appears on this Website is accurate, useful and safe;
Customer's damage incurred by the use of this Website, including changes or deletions of the information, discontinuation or suspension of the publication; and
Any and all damage incurred by using this Website.
Download List
| Category | File name | File size | Date modified | Download |
| --- | --- | --- | --- | --- |
| | Specifications_UXM-30LXH-EWA | --- | 2016-03-07 | |
| | Instruction Manual_UXM-30LXH-EWA | --- | 2016-03-07 | |
| | Communication Protocol Specifications_UXM-30LXH-EWA | --- | 2016-03-07 | |
| | Catalog_UXM-30LXH-EWA | --- | 2016-03-07 | |
| | Data Viewing Tool_UrgBenriPlus_2.3.1(rev.340) | --- | 2022-07-25 | |
| | 2DCAD(dxf)_UXM-30LXH-EWA | --- | 2017-04-27 | |
| | 3DCAD(IGES)_UXM-30LXH-EWA | --- | 2017-04-27 | |
| | 3DCAD(STEP)_UXM-30LXH-EWA | --- | 2017-04-27 | |
Programming
Product's Category
Scanning Rangefinder

Photoelectric Switch

Sensor for Iron & Steel Industry

Optical Data Transmission Device

Optical Data Transmission Device