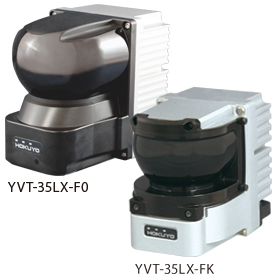 YVT-35LX-F0/FK

Scanning Rangefinder
Distance Data Output
3D Scanning Range Finder.
The distance is measured by steering the laser beam vertically and horizontally. In 1 frame, a point cloud with 2590 points is generated. It is possible to increase the point cloud density using the interlacing mode. This scanner is equipped with an acceleration sensor and a PPS input signal.
Very compact (70mm x 106mm x 95mm)

Overview
Features
-> This scanner uses pulsed laser beam with TOF principle to measure distance.
-> A laser beam is emitted in a wide 3D field providing access to hight, width and depth information of objects. This information is not available with traditional 2D scanners.
Wide field of view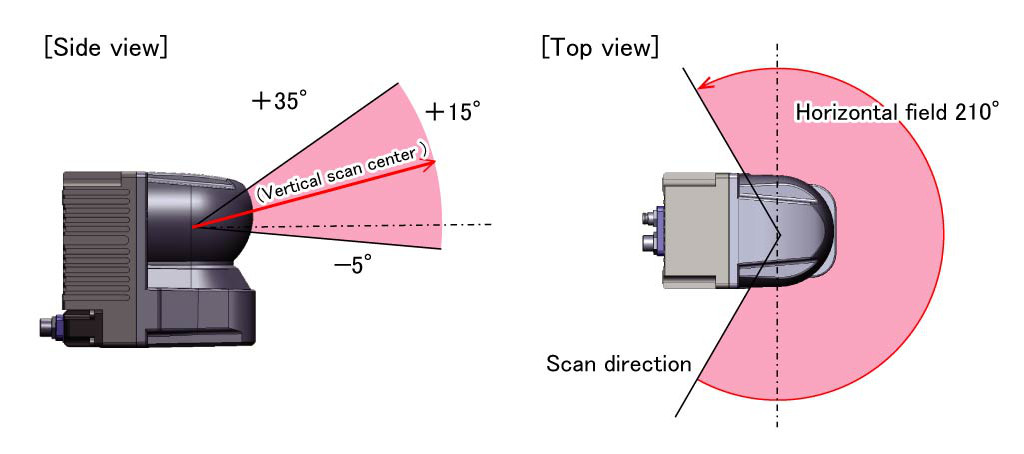 The leaser beam is steered 210° horizontally and 40° vertically. The detectable range is 35m to the front and roughly 14m to the sides. NB: Please refer to the specification document to know more about the detectable range in every direction.
Interlacing mode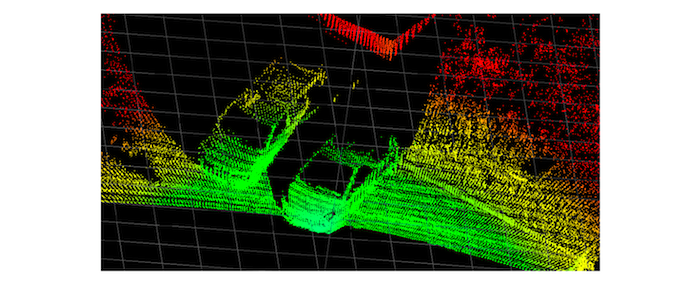 The laser emission position is shifted gradually in every cycle to generate a denser point cloud. It is possible to increase the density to 20 times horizontally and 10 times vertically independently. NB: At maximum density, it called HD (Hight Density) mode.
Accelerometer (Gyroscope) is included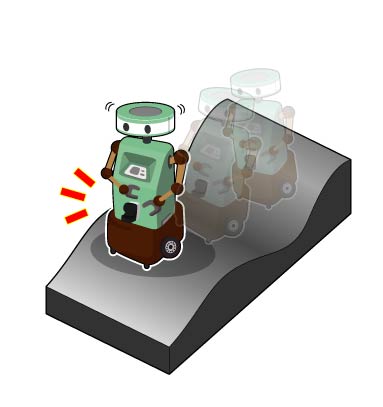 Angular velocity and acceleration are detected. Because the accelerometer is included, you don't need to apply time synchronization. The used accelerometer is MPU-6500 from InvenSense. Please refer to the maker manual for details. NB: This scanner use mechanical steering mechanism which would add noise to the received data.
Multi-echo support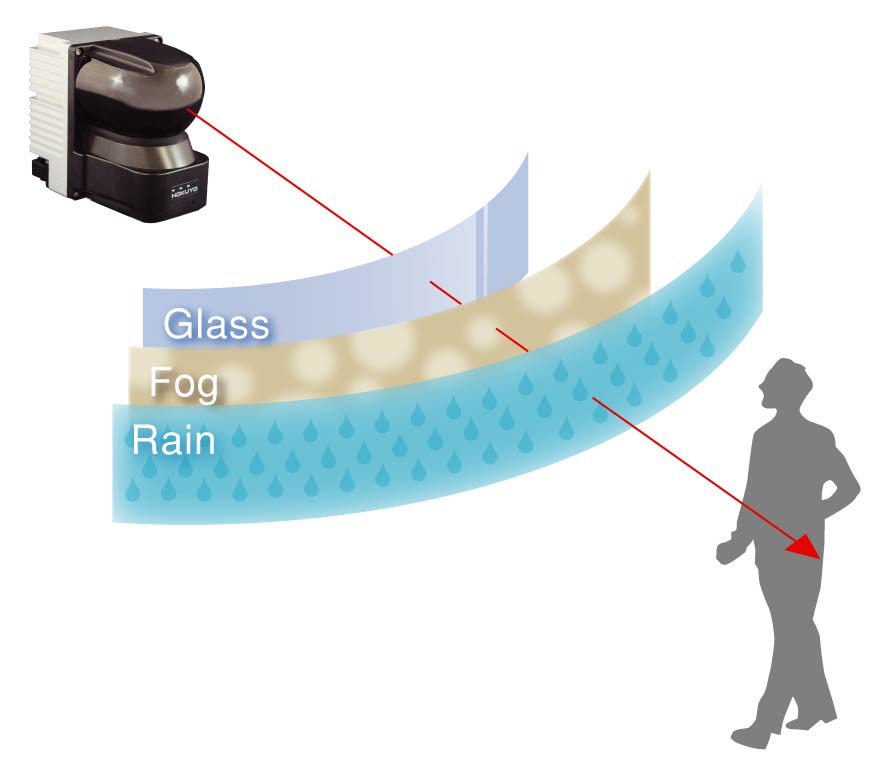 In the same direction, reflections from rain, dust and fog may generate multiple returns. Distance measurement of each return is reported. For outdoor usage, multiple echo function allows separating rain, fog and mist from target objects and housing cover. Up to 4 echos are supported (First , second, third and last echo) NB: Internally, this scanner processes unto 8 returns and reports only 4.
PPS input signal
When used with GPS, PPS signal reset the scanner's timestamp to eliminate clock drifting error.
Environmental resistance
It is suitable for use in various environments with its IP67 protective structure, 100,000lx ambient illuminance and 10G impart resistance.
Specification
Product name
3D Scanning Range Finder (3D LIDAR)
Model
YVT-35LX-F0
YVT-35LX-FK (Quiet Type)
Light source
Laser diode Wave length=905nm
Laser Safety Class 1(IEC60825-1:2007 and IEC60825-1:2014)
Supply voltage
DC12V/24V(Operating Voltage Range 10~30V)
(When using 12V : Startup 1.5A / Normal 0.8A)
Horizontal scan angle
FOV: 210° or more Pitch: 6°
Accuracy: ±0.125°
Vertical scan angle
FOV: 40° (-5° to 35°)
Accuracy: ±2°
Data spots
(Resolution)
2590 spots or more (No interlace, 20fps)
518000 spots or more (Interlace HD mode, 0.1fps)
Interlaced mode
Horizontal: Max 20 times
HD Mode: Horizontal 20 times × vertical 10 times
Detection range
at center of vertical scan
(upward 15°)
Horizontal scan -45°<θ<45°0.3-35m (white paper) 0.3-11m (black paper reflectance 10%)
-75°<θ≦-45°,45°≦θ<75°0.3-20m(white paper) 0.3- 6m (black paper reflectance 10%)
θ≦-75°,75°≦θ 0.3-10m(white paper)  0.3-3m (black paper reflectance 10%)
* Detection range at vertical scan upward 35° / downward -5° is 70% at center of vertical scan (upward 15°)
Detection accuracy
(at temperature 25°C)
Center White paper below 15m:±50mm
White paper 15m~:±100mm
Repeated accuracy
(at temperature 25°C)
Center White paper below 15m:σ < 20mm
White paper 15m~ :σ < 35mm
No. of detection echo
Up to 4 echoes
Horizontal scan speed
20Hz
1200Hz
Input / Output
PPS Input : photo-coupler input (Active high at 2mA or more) 
Synchronous Output : photo coupler open collector output (30VDC 50mA MAX)
Interface
Ethernet (TCP/IP) 100BASE-TX (Auto-negotiation)
Protective structure
IP67 (Power supply is off) Not waterproof
Weight
YVT-35LX-F0 Approx. 650g
YVT-35LX-FK Approx. 1kg
Size
YVT-35LX-F0 70mm×106mm×95mm(W×D×H)
YVT-35LX-FK 76mm×106mm×95mm(W×D×H)
Ambient temperature, humidity
-10 to 50°C below 85% (Without dew/frost)
Vibration
10 to 57.5Hz double amplitude 1.5mmp-p
57.5Hz to 150Hz 98m / s2 (10 G) for 2hrs in each X,Y and Z direction
Sweep rate: 1 octave/min (3.9sec / sweep)
(Both in operating and non-operating state)
Noise level
YVT-35LX-F0: In front direction 53db (at distance 1000mm) Frequency 1200Hz
YVT-35LX-FK: In front direction 47db (at distance 1000mm) Frequency 1200Hz
Background illuminance
100,000lx (Avoid direct sunlight)
Communication protocol
VSSP 2.1
EMC
(EMI)
EN61326-1:2013
EN55011:2009+A1:2010

(EMS)
EN61326-1:2013
EN61000-4-2:2009
EN61000-4-3:2006+A1:2008+A2:2010
EN61000-4-4:2012
EN61000-4-6:2009
EN61000-4-8:2010
※Power cable and Ethernet cable are sold separately. Please refer to option item.
Caution: Sensor's warm up duration is about 60 sec after power ON. During the warm up state, measurement data cannot be obtained. Also, it requires about 2 to 3 min for stable vertical scan.
Caution: Refer to the inspection sheet for detail on accuracy data of the device. During product shipment, test is performed only at front direction. Detection distance and accuracy may differ depending on the direction of measurement. Also, above mentioned accuracy during temperature 25° C.
Caution: Near range data may contain noise in the first echo of upper direction spots.
Caution: Objects with very low reflectivity may not be detected at the near range even when it is detected at the different range.
■Disclaimer
• This sensor is not certified for the functional safety.
• This sensor cannot be used for human body detection as per the machinery directives.
• Sensor emits laser for measurement. Sensor's operation may become unstable under the influence of strong interference light or when emitted lights are not reflected back from the object.
• Sensor's operation may become unstable due to rain, snow and fog or due to dust pollution on the optical window.
• Rules and regulations related to safety should be strictly followed when operating the sensor.
• When there is a risk that this sensor is intended for use in mass-destruction weapons, weapons and equipment aimed at killing human beings, and relevant technologies, or when uses for such purposes are clear, sales may be prohibited in accordance with the Foreign Exchange and Foreign Trade Act, and the Export Trade Control Order (Japanese law). Moreover, regarding export of products, the formalities according to laws/Export Trade Control Order are implemented in order to maintain international peace and safety.
• Caution – Use of controls or adjustments or performance of procedures other than those specified in the specification document may result in hazardous radiation exposure.
• Before using the sensor, make sure to read the specification document thoroughly.
External dimension
YVT-35LX-F0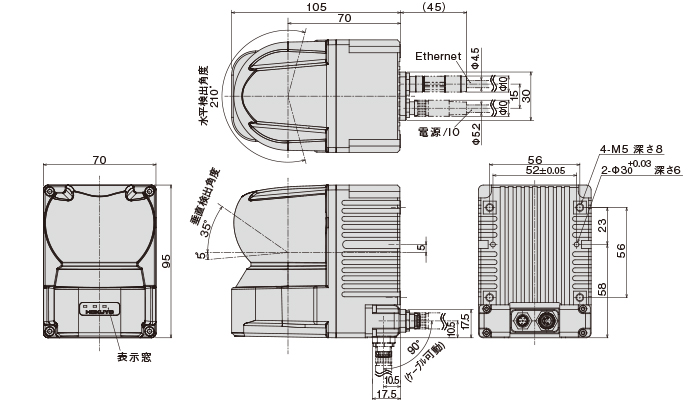 YVT-35LX-FK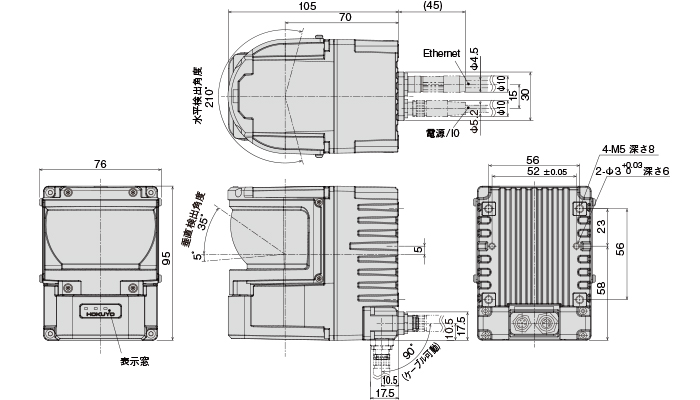 I/O Circuit
Connector pin assign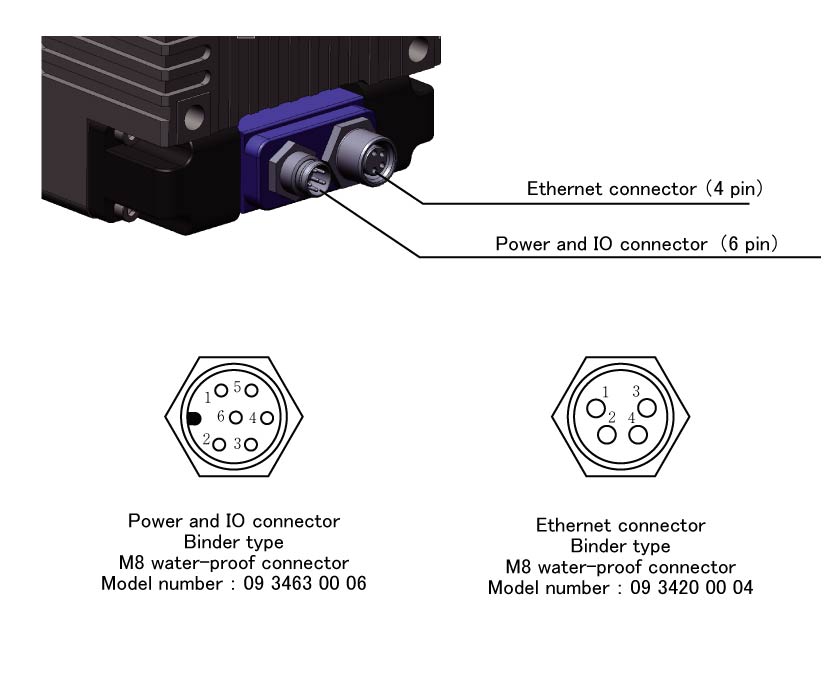 | | |
| --- | --- |
| ■Power supply and IO connector | ■Ethernet connector |
| | |
| --- | --- |
| Pin number | Function |
| 1 | +VIN (10~30V) |
| 2 | PPS COM |
| 3 | -VIN (0V) |
| 4 | -COM |
| 5 | SYNC OUT |
| 6 | PPS IN |

| | |
| --- | --- |
| Pin number | Function |
| 1 | TX+ |
| 2 | RD+ |
| 3 | RD- |
| 4 | TX- |
I / O circuit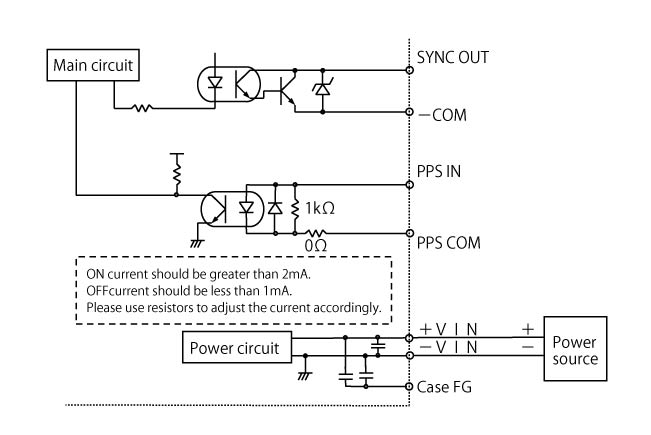 Option
■Power cable
| | | |
| --- | --- | --- |
| Model | Code | Length |
| YVT-C003 | UZ00092 | 3m |
| YVT-C005 | UZ00093 | 5m |
※1 cable is needed per scanner
■Ethernet cable
| | | |
| --- | --- | --- |
| Model | Code | Length |
| YVT-ENET003 | UZ00095 | 3m |
| YVT-ENET005 | UZ00096 | 5m |
※1 cable is needed per scanner<
Power cable

| | | |
| --- | --- | --- |
| Pin No. | Function | Color |
| 1 | +VIN (10~30V) | Brown |
| 2 | PPS COM | White |
| 3 | -VIN (0V) | Blue |
| 4 | -COM | Black |
| 5 | SYNC OUT | Gray |
| 6 | PPS IN | Pink |
Ethernet cable

M8 waterproof connector
Pin No.
Function
Color
1
TX+
Yellow
2
RD+
White
3
RD-
Blue
4
TX-
Orange

RJ45
Pin No.
Function
Color
1
TX+
Yellow
2
TX-
Orange
3
RD+
White
4
NC
-
5
NC
-
6
RD-
Blue
7
NC
-
8
NC
-
Downloads
Before Download
Only members can download the file.
If you have not registered as a member, please register as a member by clicking the "Registration".
If you are already a member, please agree to the following terms and click the "Agree".
License for Downloading Materials
When downloading the product specifications, drawings and various types of materials and software related to the Hokuyo's product line, please read the terms of use in advance and then utilize the same with your understanding and consent. In case of dissent, please understand that you cannot register to and be recognized in the download page. (And the Terms of Use may be revised without prior notice.)
Terms of Use
Intellectual Property Rights

Copyrights and the other rights to contents such as sentences, data and software published on this Website (hereinafter referred to as "Contents") are held by Hokuyo or its suppliers.
The secondary application (copy, diversion, defacement, analysis, transmission, assignment, rental, licensing, and usage for the purpose of business activities or commercial gain) of the Contents on this Website posted by Hokuyo is strictly prohibited without our prior approval. Specific terms of use described for each download site or Contents shall apply in preference to the Terms of Use.
Provision of the Contents on this Website by Hokuyo means neither a transfer of the patent rights, design rights, and/or the other intellectual property rights to inventions and designs in the Contents, nor a grant of any rights based on the intellectual property rights.

Disclaimer

Hokuyo pays full attention to the information that appears on this Website, but does not take responsibility for the following items:

The information that appears on this Website is always the latest version, and is updated or corrected timely and properly;
The information that appears on this Website is accurate, useful and safe;
Customer's damage incurred by the use of this Website, including changes or deletions of the information, discontinuation or suspension of the publication; and
Any and all damage incurred by using this Website.
Download List
| Category | File name | File size | Date modified | Download |
| --- | --- | --- | --- | --- |
| | YVT-35LX-F0 Specification | --- | 2018-02-19 | |
| | YVT-35LX-FK Specification | --- | 2018-02-19 | |
| | YVT-35LX Communication protocol specification | --- | 2018-02-19 | |
| | YVT-35LX-FK 3DCAD | --- | 2020-01-17 | |
| | YVT-35LX-FK 2DCAD(DXF) | --- | 2020-01-17 | |
| | YVT-35LX-F0_3DCAD | --- | 2020-01-17 | |
| | YVT-35LX-F0_2DCAD | --- | 2020-01-17 | |
| | YVT-35LX Data viewing application | --- | 2023-04-03 | |
| | Firmware Update Tool (Smart Updater Ver.2.0) | --- | 2021-02-25 | |
| | IP_Discovery_2.1(rev.84) IP address changing tool | --- | 2022-07-25 | |
Product's Category
Scanning Rangefinder

Photoelectric Switch

Sensor for Iron & Steel Industry

Optical Data Transmission Device

Optical Data Transmission Device