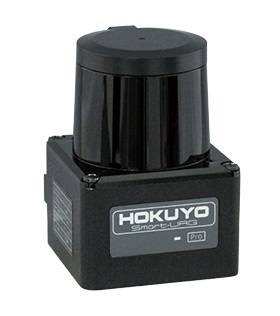 UST-15LX
Scanning Rangefinder
Distance Data Output
Outdoor LiDAR for intelligent robots
The size is very small and it has high accuracy with outdoor.
Overview
Features
-> The smallest and the lightest of its kind, 130g
-> Mid-detection range 15m, Wide detection angle 270, Fast response 25msec, High angular resolution 0.125°
-> It is possible to detect size, position and the moving direction of objects.
Outdoor model

Mapping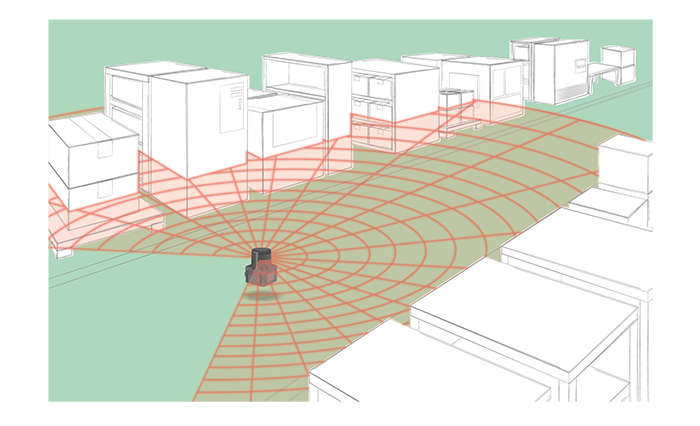 UST-15LX can be used with ROS
Very Small and Wide Range (30 meter)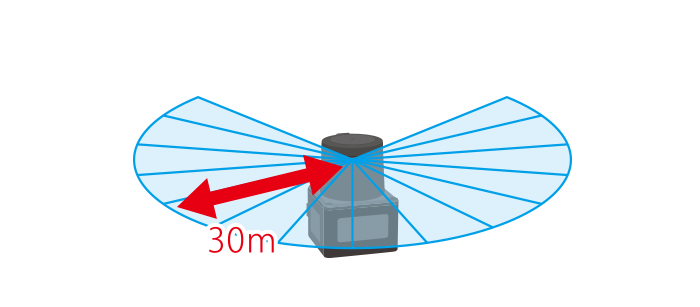 UST-15LX is very small as well as the indoor model,
but UST-15LX can detect at 15 meter away.
anti-ambient light (100,000lx)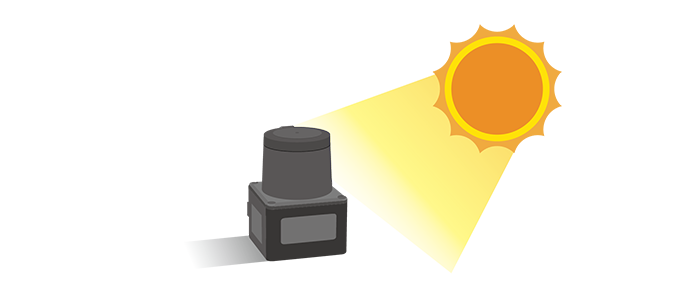 Please avoid the direct sunlight
Multi-echo function ( Special for Outdoor)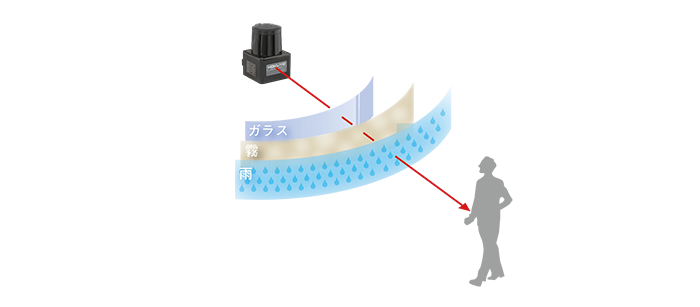 Multi-echo function will detect the several layer of object, such as glass and fog.
anti-dirtiness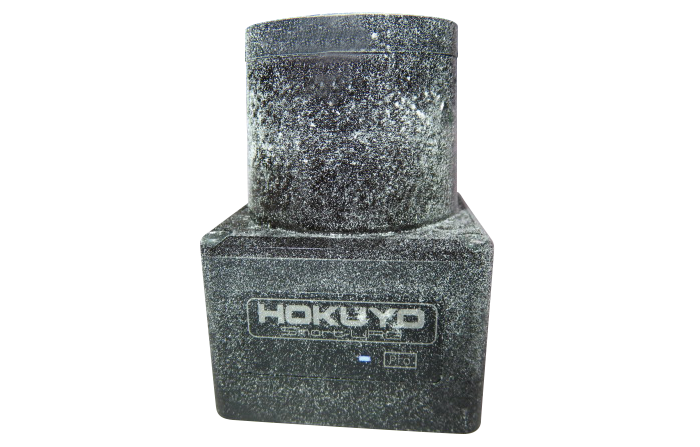 This image is just for reference.
Specification
Product name
Laser range finder
Model
UST-15LX
Supply voltage
12VDC/24VDC (operation range 10 to 30V ripple within 10%)
Supply current
150mA or less (during start up 450mA is necessary)
Light source
Semiconductor laser, λ=905nm, safety class of the laser = 1
Detection range
0.05m to 15m (white Kent sheet)
0.05m to 6m (diffuse reflectance 10% )
Maximum detection distance : 105m(@6m), 260mm(@15m)
Accuracy
+/-40mm *1
Repeated accuracy
σ<20mm *1
Scan angle
270°
Scan speed
25ms (Motor speed 2400rpm)
Angular resolution
0.25°/ 0.125°*2
Start up time
Within 10 sec (start up time differs if malfunction is detected during start up)
Output
Synchronous Output, photo coupler open collector output 30VDC 50mA MAX
Interface
Ethernet 100BASE-TX
LED display
Power supply LED display(Blue) : Blinks during start up and malfunction state
surrounding intensity
Less than 100,000lx
Note : Avoid direct sunlight or other illumination sources as it may cause sensor malfunction
Ambient temperature and humidity
-30°C to +50°C, below 85%RH (without dew, frost)
Storage temperature and humidity
-30°C to+70°C, below 85%RH (without dew,frost)
Vibration resistance
10 to 55Hz double amplitude of 1.5mm for 2hrs in each X, Y, and Z direction
55 to 200Hz 98m / s2(10G) sweep of 2min for 1hr in each X,Y and Z direction
Shock resistance
196m/s2 (20G) X,Y and Z direction 10 times
EMC standards
(EMI)
EN61326-1:2013
EN55011:2009 + A1:2010
(EMS)
EN61326-1:2013
EN61000-4-2:2009
EN61000-4-3:2006 + A1:2008 + A2:2010
EN61000-4-4:2012
EN61000-4-6:2009
EN61000-4-8:2010
RoHS
(EU)2015/863
Protective structure
IP67
Weight
130g(Excluding cable)
Material
Front case: Polycarbonate, Rear case: Aluminum
Dimensions (W×D×H)
50×50×70mm(sensor only)
*1. Under the factory standard testing conditions using white Kent sheet.
*2. Angular resolution of 0.125 and 0.25 can be switched by LXSettingTool software.
This function is only available to the product code of UUST2**. (firmware version:4.0.0 or later)
External dimension
External Dimension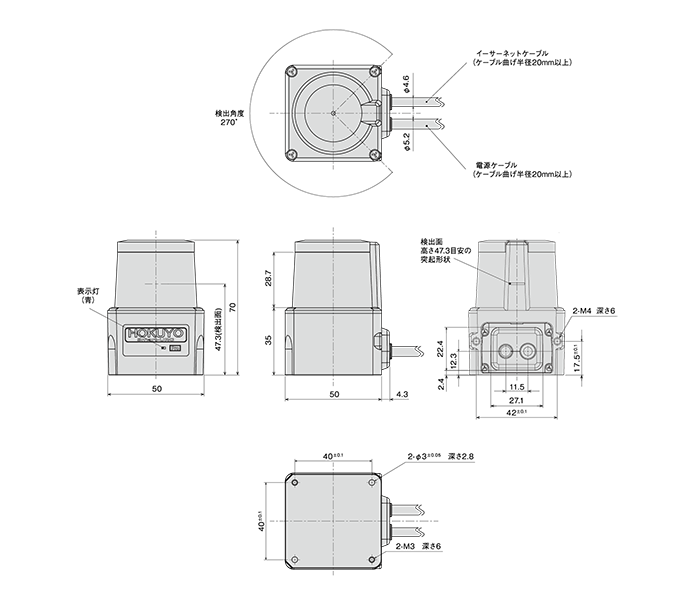 I/O Circuit
I/O circuit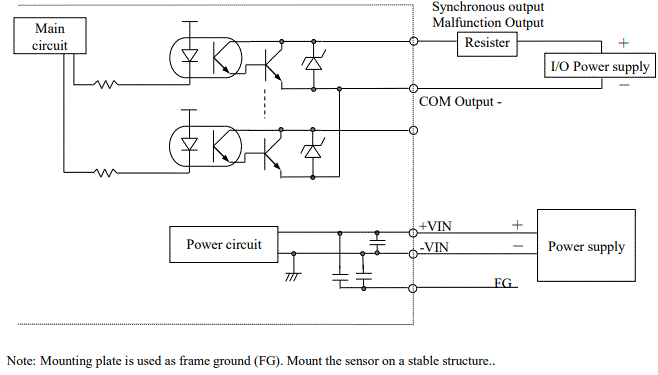 Downloads
Before Download
Only members can download the file.
If you have not registered as a member, please register as a member by clicking the "Registration".
If you are already a member, please agree to the following terms and click the "Agree".
License for Downloading Materials
When downloading the product specifications, drawings and various types of materials and software related to the Hokuyo's product line, please read the terms of use in advance and then utilize the same with your understanding and consent. In case of dissent, please understand that you cannot register to and be recognized in the download page. (And the Terms of Use may be revised without prior notice.)
Terms of Use
Intellectual Property Rights

Copyrights and the other rights to contents such as sentences, data and software published on this Website (hereinafter referred to as "Contents") are held by Hokuyo or its suppliers.
The secondary application (copy, diversion, defacement, analysis, transmission, assignment, rental, licensing, and usage for the purpose of business activities or commercial gain) of the Contents on this Website posted by Hokuyo is strictly prohibited without our prior approval. Specific terms of use described for each download site or Contents shall apply in preference to the Terms of Use.
Provision of the Contents on this Website by Hokuyo means neither a transfer of the patent rights, design rights, and/or the other intellectual property rights to inventions and designs in the Contents, nor a grant of any rights based on the intellectual property rights.

Disclaimer

Hokuyo pays full attention to the information that appears on this Website, but does not take responsibility for the following items:

The information that appears on this Website is always the latest version, and is updated or corrected timely and properly;
The information that appears on this Website is accurate, useful and safe;
Customer's damage incurred by the use of this Website, including changes or deletions of the information, discontinuation or suspension of the publication; and
Any and all damage incurred by using this Website.
Download List
Category
File name
File size
Date modified
Download

Specification_UST-15LX

---

2023-08-29

UST-15_30LX_Communication_Specification

---

2023-07-21

Instruction Manual_UST-15LX

---

2023-08-29

Data Viewing Tool_UrgBenriPlus_2.3.1(rev.340)

---

2022-07-25

Firmware Update Tool (Smart Updater Ver.2.0)

---

2021-02-25

IP_Discovery_2.1(rev.84) IP address changing tool

---

2022-07-25

LXSettingTool_Ver1_3_0

---

2023-03-30

2DCAD_UST-15/30LX(DXF)

---

2023-03-30

3DCAD_UST-15/30LX(IGES/STEP/Parasolid)

---

2023-03-30

LXSettingTool for switching angular resolution (Ver.1.4.0)

For UST-30LX users : It is available to use for code number UUST25*. (Not available for UUST15*)

---

2023-06-06
Programming
Product's Category
Scanning Rangefinder

Photoelectric Switch

Sensor for Iron & Steel Industry

Optical Data Transmission Device

Optical Data Transmission Device